---
PHIL and BUZZ CLIC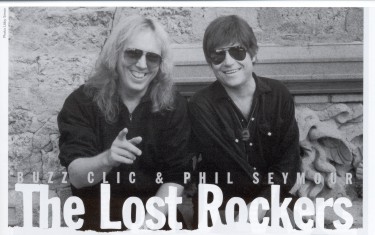 photo by Libby Simon
On November 1, 1991 Phil flew to Los Angeles to record with songwriter/guitarist from The RUBBER CITY REBELS, BUZZ CLIC. Phil worked with Buzz in 1986, sang lead vocals on some demos and then again in 1988 he sang on three more.
These November sessions were new versions of the same songs with a few new ones. My favorites are "Sunsets In Blue" and "Faded Dreams", the latter which Phil co-wrote the melody for.
Phil returned to L.A. the week of February 10, 1992 to finish the vocals on these songs. A surprise visit from Dwight Twilley resulted in background harmonies by Dwight and Phil on one song, "Don't Lead Me On".
These songs were released as a cassette album which was available through Phil's fan club. If you are interested let me know, maybe if Buzz gets enough requests for it...
And also...as is stated in the 1979 page of this website... Phil and Buzz recorded demos early in Phil's solo career.
Buzz has recently been interviewed by Terry Hermon for the music magazine BUCKETFULL OF BRAINS. In it he talks about his friendship with Phil and the work they did together over the years, including these sessions. Get It! Read It!

(click to read the interview with Buzz in BOB)


also be sure to check out :
http://www.rubbercityrebels.com
www.bucketfullofbrains.com (this magazine is a must read for anyone who loves pop music. well written, superior quality production, excellent! I recommend it.)