---
legendary HitchHikers
About The time I moved to Tulsa in July 1991 The Legendary HitchHikers were getting together. In the band was Bill Padgett on drums, Mike Day on bass and vocals and a young guitarist/songwriter named Bob Collum. Phil took me to their studio to meet them - he was excited about singing some songs with this new band... and he did.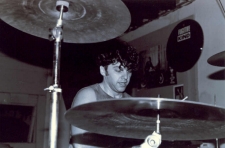 Bill and Phil
In Tulsa many bars and small clubs have "jam nights" for anyone who wants to come out and ... jam.
On Sunday nights the Brook Alley on Peoria Avenue had their jam night hosted by The ZIGS, another band Phil sang and recorded with. The Legendary HitchHikers took over the stage on more than one Sunday evening with Phil as their honored guest.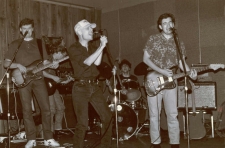 The debut cassette album by The HitchHikers was recorded through 1991 in Tulsa with David White performing the engineering and producing duties. Phil sang on 6 songs.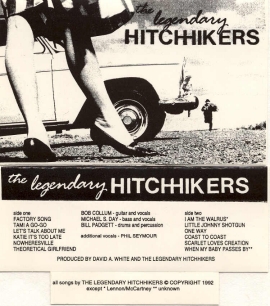 (copies of this cassette are still available at this website. e-mail me for details)

Phil was singing with The Zigs at the club, Profiles, on Christmas night 1991. Bill and Dave took a break from their recording session to come see Phil.