---
Memphis Greg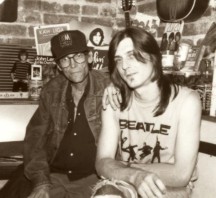 My first contact with Greg Roberson was a postcard he sent me in April of 1990 in response to an article about Dwight and Phil that appeared in Goldmine magazine a few months earlier. I had contributed information and photos to the writer and my fan club address for Dwight and Phil was included. Greg and I began writing and then talking on the phone. He was a longtime fan and Dwight had told me about him a few years earlier... "There is this guy named Greg in Memphis... "
I first met Greg in May 1993 when he came to Tulsa with a young songwriter named Brandon McGovern. Phil wasn't feeling well the afternoon they arrived so I asked Bill Padgett and David White to entertain them until Phil was ready.
Later that night... Phil was feeling better so the boys all came over and we stayed up all night listening to cassette demos of songs Greg and Brandon had written together. One song had me and Bill tapping out drum parts on the furniture.
It was "A Week Ago Tuesday" and they went back to the studio the next day and recorded it. Phil is not on this recording but this was the beginning of what was to become Madison Treehouse... Her Majesty's Buzz... Crown Electric.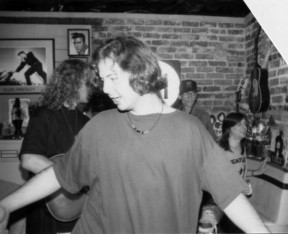 Brandon
In June 1993 Phil had started recording with Bill and Dave at their studio.
Greg and Brandon returned to Tulsa June 22-25 to record a couple songs with them.
Phil was in heaven. He was back in the studio, hangin' out with the guys, recording!
And he had a new young friend/fan, Brandon, who wanted to hear all about his career. The sessions went on all night, the train came through at 5am. Phil even donated his purple lava lamp to the studio for 'mood lighting'. It was too cool.