---
1980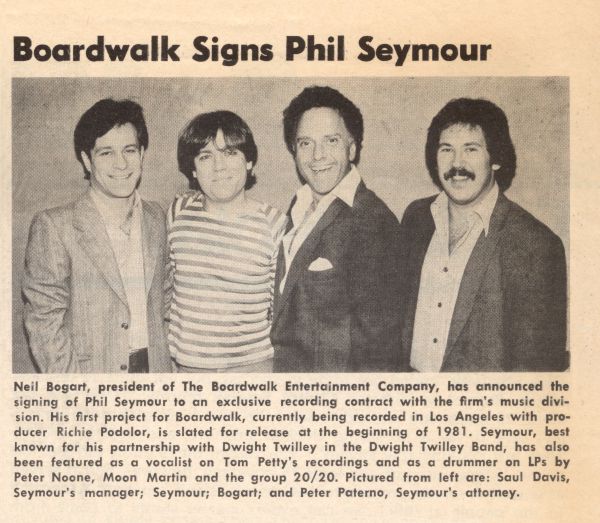 When Neil Bogart left Casablanca Records and started his own label, BOARDWALK, Phil was the first artist he signed in September 1980.
With Richard Podolor producing Phil started recording his first solo album.
Recording with Phil was
Bill Pitcock IV - guitar
Emory Gordy - bass
Duane Hitchings - keyboards
David Crockett - drums
20/20 members Steve Allen and Ron Flynt played on two songs...
"Tryin' To Get To You" and "Let Her Dance".
Carla Olson from the Textones played guitar on a song written by Kathy Valentine of the GoGo's called "We Don't Get Along".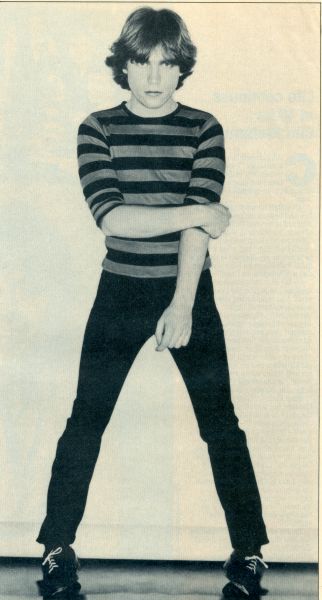 ---
1981
Phil's first solo album titled 'PHIL SEYMOUR' was released January 16, 1981 on Boardwalk Records.

click this
"Precious To Me" was the first single released and it reached #22 on the national charts in the U.S. and #3 in Australia and Phil was awarded a gold record for it there.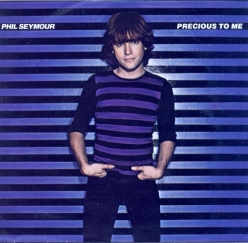 Phil found himself on American Bandstand, Solid Gold and The Merv Griffin Show. Merv devoted an entire show to Neil Bogart and his new label, BOARDWALK.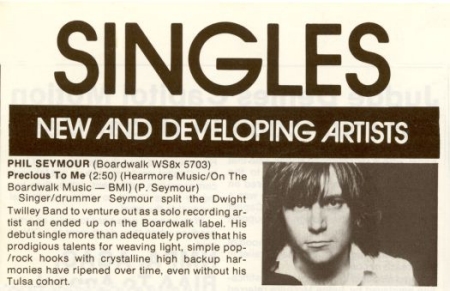 (Cashbox / January 10, 1981)

(Cashbox / January 24, 1981)
The b-side to "Precious To Me" was another Seymour composition, "Baby It's You" but it was soon decided that this song should be the A-side to Phil's second single and it was replaced on the second pressings with a new Twilley song, "Suzy Glider". This song found Dwight and Phil and Bill Pitcock recording together again for the first time since they split up in 1977.

Videos were made for "Precious To Me" and "Let Her Dance" but they were pre-MTV and were only used for promotion.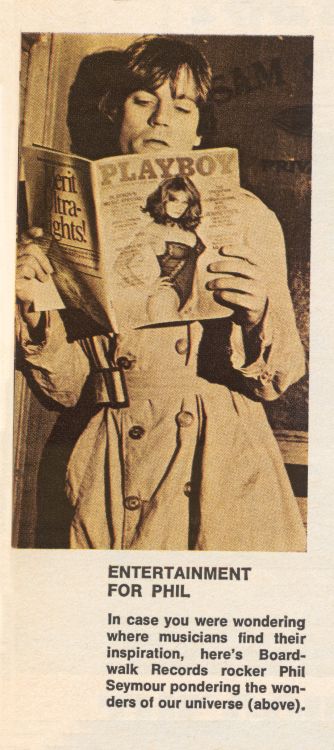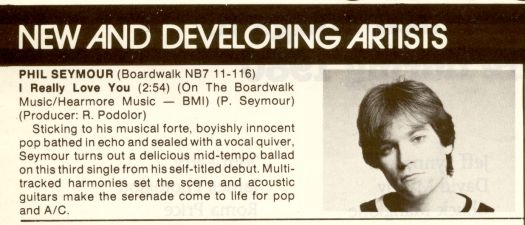 (Cashbox / July 4, 1981)


click here to read this Circus interview
---
1982
In 1982 Phil released his second solo album, titled PHIL SEYMOUR 2.
I found this album one day by accident while at my favorite record store. I had no idea it had been released. Never saw a single word about it in any of the music magazines I regularly bought. No advertisement at all!
Before Phil died we discussed how he wanted me to write about the year 1982 and the end of his recording career. He wanted the truth with no details, so this is what we wrote.
The follow up album to his very successful debut was rushed and not completed to his satisfaction. It made its way to the record racks without anybody knowing about it. Only diehard fans who were always on the lookout for any new release from Dwight or Phil were lucky enough to find it.
Although maybe not as good as the first album there are some great songs and Phil's vocals are still better than most. A previously unreleased Tom Petty song, "Surrender", "Dancin' A Dream" by Bob and Paul Cowsill, "Talk To Me", "Turn Out The Light", "Better To Me Than You" (written by Phil) and "You Give Good Love" (that's half the songs) are all worth the price of the album.
However, by this time, Phil was ruining his health and his career with his use and abuse of alcohol and drugs. His live performances which had gained him the reputation of being "one of the best singers in L.A." and had left audiences screaming for "more Seymour" were now greatly disappointing. He was vulgar and rude to his audiences and was booed off stages or didn't show up at all.
Not long after the release of Phil's second album Neil Bogart died, Boardwalk folded and Phil lost his contract.