---
TEXTONES
1983
One day in 1985 I was going through the new January issue of 'THE RECORD' magazine. I started reading an article titled "Is It Rolling Bob?". It was about a band, the Textones. Id never heard of them but as I continued reading I was thrilled to see PHIL SEYMOUR listed as their drummer. This was the first news I'd seen of Phil at all since his second album came and went in 1982 so I was very excited that he was back in action. Even if only drumming for somebody else.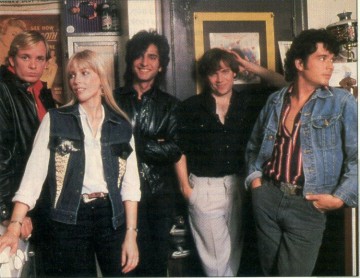 And when I looked at the picture again... YES IT IS PHIL !!!

fff read the article
So... of course I went right out and found this album in my local record store and proceeded to wear it out.
Phil joined the Textones in 1983. They were a part of the L.A. music scene and Phil had worked with them before. Kathy Valentine was their original bass player and went on to join the GoGo's. Frontwoman Carla Olson had played guitar on Phil's first solo album on one song "We Don't Get Along" (written by Kathy Valentine). David Provost, one of their bass players also played on Phil's first album and was in his touring band.
1984
The Textones first album, MIDNIGHT MISSION, was released in 1984 on Gold Mountain Records. Phil was the drummer and shared lead vocals with Carla on one song, "Running".

(in this spot will be a pic of the album cover)
1985
In 1985 The Textones were featured performers on Showtime's "ROCK OF THE 80's" concert series and did a very successful tour of Norway, Amsterdam and England where they are still very popular.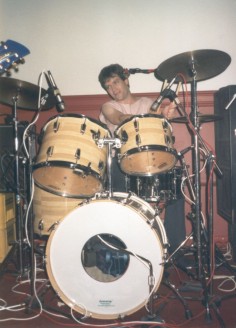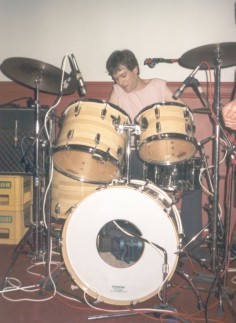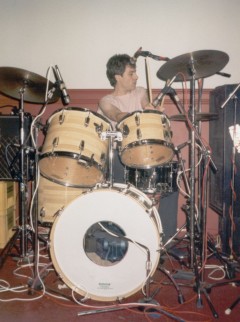 SOMEWHERE IN ENGLAND
photos are courtesy of Stuart.
It was during this tour that Phil started noticing lumps on the back of his neck. When they returned to the U.S. he was diagnosed with Lymphoma, a cancer of the lymph system. He was unable to continue with the Textones and they recruited a new drummer.
Phil pretty much disappeared for the next few years while going through chemotherapy. He did some studio work with The Heartbreakers Mike Campbell and recorded many demos with Richard Podolor which remain unreleased gems. Among them was a great version of the song "Maybe It Was Memphis" written by former Phil bassist Michael Anderson and recorded years before Pam Tillis had a huge hit with it.